about us
Great skin is our expertise.
Created on the Central Coast of California in San Luis Obispo, LS ME MD is the ideal skincare line that promotes natural ingredients, no animal testing and skincare systems targeting all unique skin types.

LS ME MD products are formulated to cleanse, tone, balance, exfoliate, lighten and brighten, clear acne-prone skin, smooth rough dry skin, and eliminate hyperpigmentation, lines and wrinkles.

Our products are built on layered systems of the highest quality, pharmaceutical grade ingredients. They are formulated with ingredients proven in peer reviewed medical literature. Additionally our products are cruelty-free, paraben-free, and gluten-free.

When LS ME MD is the foundation of your daily skincare regimen, your results will be nothing short of AMAZING!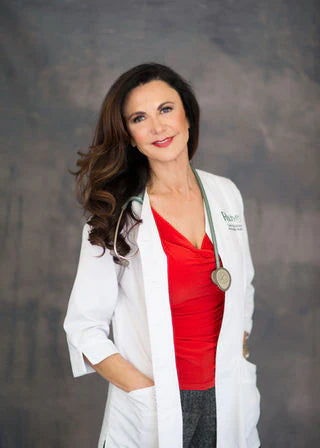 About The Founder
Dr. Laleh Shaban was born in Iran and moved to the United States of America in 1977 where she attended La Jolla High School immediately followed by the University of California San Diego (UCSD) undergraduate program. Per the limitations of not yet having acquired her US citizenship, she completed her medical school at UTESA school of medicine in Dominican Republic. She graduated with honors and returned to the United States where she obtained her US citizenship and completed her residency program in internal medicine at Saint Joseph's Hospital and Medical Center in Phoenix, Arizona.

In 1997, she and her growing family returned to the central coast of California where her husband had been born and raised. Dr. Shaban started her private practice in January 1999 and soon she had over 4000 patients in her solo practice.

Dr. Shaban's ceaseless passion for medicine and continued education has resulted in achieving her certifications in Geriatrics, Functional and Metabolic medicine, Metabolic Cardiology, IV Therapy, Ozone Therapy, Bio-Identical Hormone Replacement Therapy, and Aesthetic Medicine. She published her functional medicine book, "The Fountain of Youth and Eternal Health" in 2017. This wildly popular and educational literary work became an international number one best seller.

This occurred during the constant growth of her ongoing cosmetic practice and her aesthetic practice, which have both become a large yet balanced med spa utilizing laser technology, ultrasound, radio frequency, micro-needling, chemical peels, micro-dermabrasion, dermal fillers, and neuromodulators to broaden her service spectrum and maximize each patient's unique goals.

In order to sharpen her vast array of skill sets, she trained under many renowned physicians and surgeons such as Dr. Obagi (dermatologist in Beverly Hills), Dr. Joseff (plastic surgeon in Beverly Hills), Dr. Mulholland (specialist) in Canada and many more.

With years of training and knowledge of all skin types, she established her own medical-grade skin care line, LS ME MD. With healthy and appealing skin as the prevailing school of thought, her products contain rejuvenating vitamins, antioxidants, herbs, while also remaining paraben and PABA free, cruelty free and proudly made in the USA.

Dr. Shaban has been successfully treating patients to improve their skin health and maintain a more youthful appearance. As a result of her hard work and dedication, she has the highest ranking practice on the central coast as decided by Allergan, Galderma, Merz and Evolus Aesthetic companies for her expert use of Jeuveau, Radiesse, Restylanes, Dysport, Botox, and Juvéderm.

She has been recognized as the top 1% injector in the nation for Jeuveau/Newtox Neuromodulator and as the top four injector practices in the nation for Radiesse.

As an advanced injector and formerly certified injection trainer for Medicis/Galderma Aesthetics, Dr Shaban believes in sculpting the face for a more naturally beautiful appearance.

Dr. Shaban enjoys spending time with her family as well as traveling, but can be found with a smile at work saying, "I love my job and I'm truly blessed to feel like I'm on vacation everyday". Dr. Shaban is grateful as she continues to grow and thrive with the help of her remarkable team at ReviveMD.